Today is the final day of my Blog All January Long challenge. I have succeeded and am proud of that. I want to thank all of you who read my blog, whether it was everyday, once, or sporadically throughout the month. I would like to give an even bigger thank you to those of you who re-posted my blog and/or left me comments. I tried the best that I could to respond to your comments as quickly as possible. I was hoping that this challenge would make me a better writer but sadly it has not. My writing is still ripe with incorrectly spelled words, poorly composed sentences, and paragraphs that lead nowhere. So thank you all for putting up with my terrible writing to enjoy the content that was at its heart. I am going to end my month of blogging with a list, in no particular order, of my favorite attractions at Disneyland. Here we go!
The Mark Twain Riverboat- This attraction was running on opening day of Disneyland back in 1955. I love this attraction so much. It was the first steam powered paddle wheeled boat built in America since 1900. My favorite part about the Mark Twain is sitting on the bow of the ship and just relaxing, watching the crowds walk by, and enjoying the scenery around the Rivers Of America. You truly feel like you are being taken back in time. Plus, there is never a line for this one so just walk on and enjoy a leisurely ride aboard the "Grand Steamer, Mark Twain".
The Haunted Mansion- As my fandom for Disneyland has grown so has my affinity for The Haunted Mansion. This attraction has, by far, the most devoted fans of any theme park attraction. I think the reason that this attraction is so unusual is that it was the first one built after Walt Disney died. As a result, the attraction went through many stages of development with storyline changes, character changes, and the argument of scary V. silly. This attraction is one of the most rumor filled as well, with stories ranging from real ghosts being inside to characters in the attraction being removed after only being there for a few days as they were far too frightening to witness. In the 44 years that this attraction has been open effects have come and gone including, but not limited to, cast members wearing costumes and jumping out of hiding places to scare guests, as well as a completely alternate storyline (focusing on an old sea captain) that is still visible throughout the mansion. For all these reasons and more I have fallen in love with The Haunted Mansion.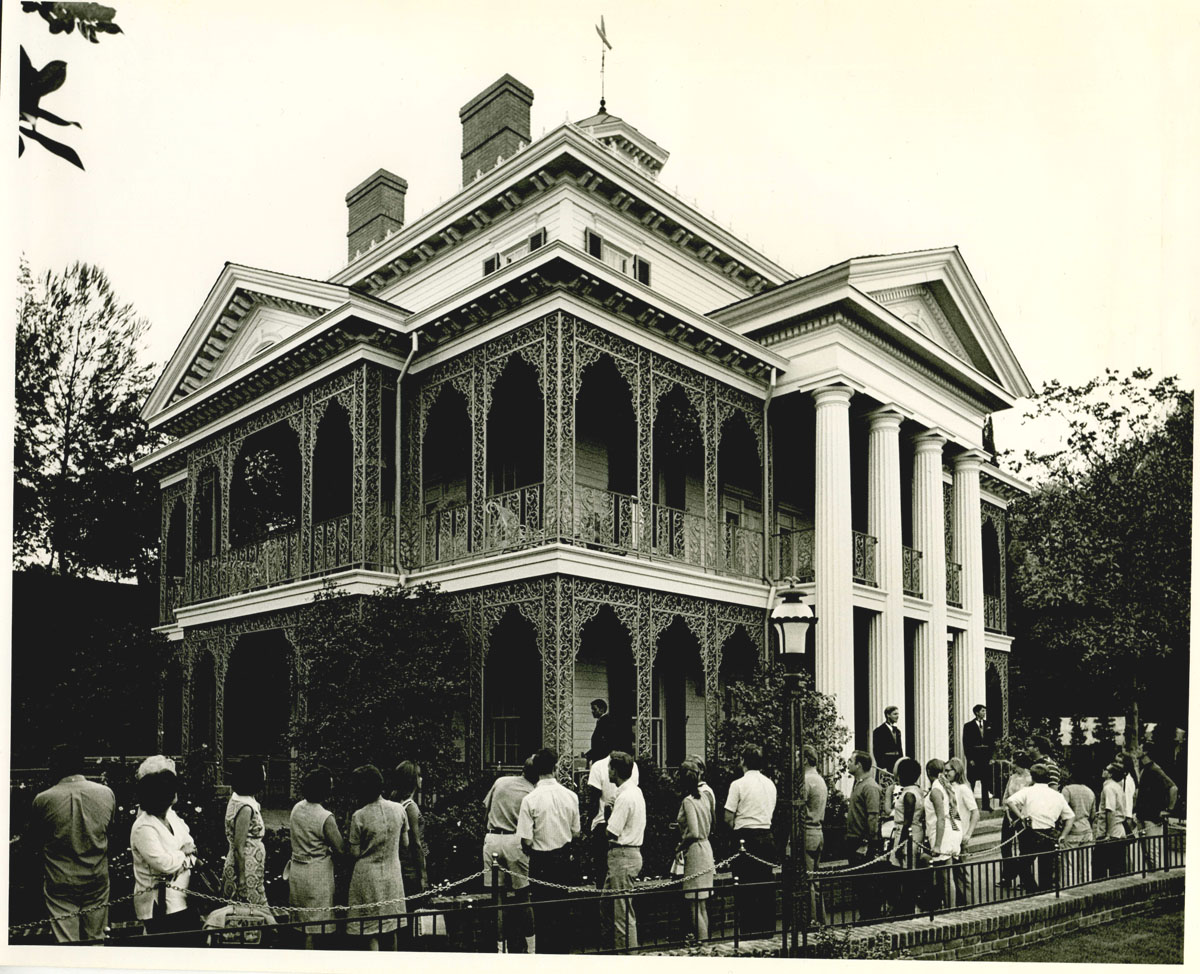 Splash Mountain- I don't get to ride this attraction as much as I would like to but it still has a very special place in my heart. There is a certain nostalgia to this attraction as I was tricked into riding this as a child and for many years after I was terrified to go on it again. I think one of the reasons I enjoy this attraction so much is in part due to the music which is infectious to say the least. Every time I ride it with my wife we just bop our heads side to side and sing all the words. The other thing I like about this attraction besides the drops which are SO MUCH FUN is the fact that almost all of the animatronics used are from America Sings (an old attraction that has been extinct since before I was born). I never got to see America Sings but at least I can enjoy looking at the animatronics used in a classic attraction from the past.
Walt Disney's Enchanted Tiki Room-opened in 1963 this was the first attraction to feature audio animatronics (AA's as they are known in the fan community). The show, lasting approximately 15 minutes features birds, flowers, and tiki gods singing songs. My wife and I know the words to all of these songs as well and sing along with the entire show. Once again, this is an attraction that never has a wait and is a perfect escape from the summer heat. To maximize your enjoyment, grab a Dole Whip (pineapple soft-serve) before you enter and let the tropical sights, sounds, and tastes sweep you away.
People Watching- this may not be an attraction but is by far my favorite thing to do in the park. Just sitting on a park bench and making catty comments about other people as they walk by will do so much for your self-esteem. You may not be as handsome as Brad Pitt but at least you didn't show up to Disneyland in a Snuggie (I have actually seen this). Besides the fashion faux pas and just good old fashioned uggos (ugly people) for you to judge you will also see cute couples, adorable families, and some of the most beautiful babies I have ever seen. This is the way Disneyland was meant to be enjoyed, do not rush, sit back, relax, and take it all in.
Check out this adorable old couple! I want Alex and I to be just like this.
Well that is it folks! Hope you enjoyed reading my blog. I will continue to blog sporadically from here on out so PLEASE continue to check my blog for updates. Feel free to add me on Facebook or follow me on Twitter @ReelBigDork. Thanks again and have a very magical day!